Hey everyone. Today is Friday, Thank God and everything that is holy! This week has been a long one of new projects, new responsibilites, and new emotional trauma. The blogger website has been acting up for a few days so today is my first opportunity to write about my very relaxing weekend *last weekend* and a few other choice topics. First of all, let me tell you how we have a porta pottie in our front lawn. I know that is random but there is a good story here.
We are in the middle of a huge landscape project of our entire front lawn, driveway, etc... and it is a mess. We have been under construction for 2 months and it looks like it's going to be even longer as our yard is a giant dirtpile. I have spared you the carnage but since the porta pottie has a purpose in this story, I have included a picture below. I have noticed that people use porta potties in people's yards. I have had two different people come into my yard and help themselves to our facilities shall we say. Isn't that strange. One of them is a very close neighbor. Why isn't this man attending his own bathroom I wonder? The other was a teenager walking through. I have no idea what these people are thinking when they meandor into my yard to use our toliet *in our yard* Oh my..anyway, here is the pic!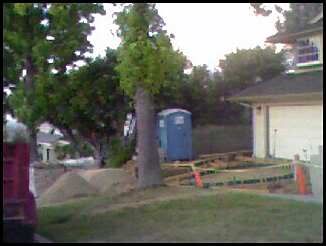 Ok, so anyway, last weekend was my only weekend in June that I would truly be able to relax and enjoy so I did just that. On friday night me and Heather went to deidrichs just to kick back, have some Joe, and apparently listen to some mexican music. There was a live little band in there creating some fun tunes while we enjoyed our Mayan Mochas. Here are a few pics from that.

Here is Heather thinking hard about life...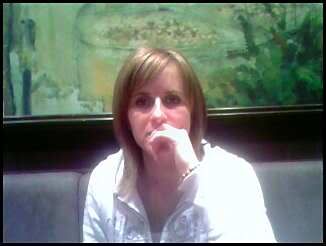 Here is one of the overall environment and a small peek at the band in the corner.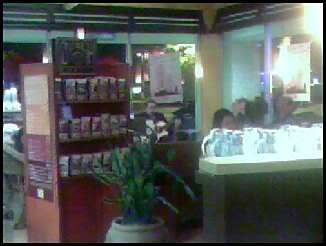 This one is special. This is my Mayan Mocha and the plate which one held the delectable Raspberry white chocolate Crumble cake or something like that. YUMMMMM!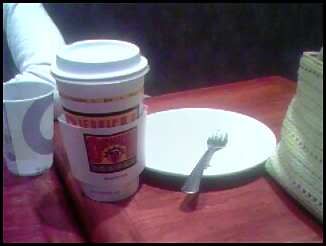 Ok, so on Saturday I went over to Heather's house and we went swimming. Yes, I enjoyed a relaxing day in the pool with Heather and a few other loved ones and we had a blast. Most of my day was spent with the cutest 3 year old that you could ever know and enjoying our attempt to not be scared of the water. It was a lot of fun until some stupid girls *teenagers* decided to drop the "F" bomb in front of cute little Jayden. NOT OK! I told them so though and man, I hope I wasn't that disrespectful to elders and my environment when I was younger. I can guarantee you I wasn't!!! Oh gosh, I am officially old to have just ranted about that.

On Sunday, I went to church, crown class, and then enjoyed the day with Heather shopping at good old thrift stores where there was some cool finds like the cool brown pumas I bought and a great Gap bag. Yes, did good for my $20. I love finding great buys and feeling like I am getting something new when I am not really. Budgets stink!

This week has been ok. I spent one day with my favorite guy friend Oscar. Here is a picture of him (cute as it gets).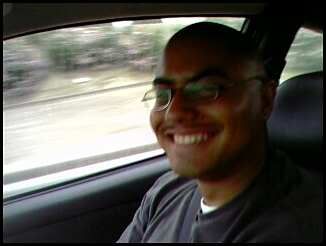 I have severed some bad situations and spoke my mind and have been getting ready to be in Hannah's wedding. Oh man, this weekend is her bachelorette party and it's so weird to see one of my own totter off to the marrying field yet again. When is it my turn? Oh, I need to give up on that dream. Next weekend is her wedding so that is why my last weekend had to be relaxing with all I had to do the rest of June.

Also, big news, my friends *Carrie & Paul* are coming out to visit the last week of June for a few days and I couldn't be more excited. I love them both and it will be great to see them and have a little home come to me! I love you guys and I am stoked!

Anyway, to end my post. Here is a face I have been making a lot lately...I am exhausted and overwhelmed and just frustrated at the world around me. This face says "SHUT UP!"